Do you have a baking enthusiast in your life? Someone who loves to create delicious pies, cakes, and pastries? If so, I've got the perfect gift idea that will surely delight them— a personalized pie server from Signature Laser Designs.
There's something special about personalized gifts, especially for those who spend a lot of time in the kitchen. A personalized pie server is not just a kitchen utensil; it's a thoughtful gesture that adds a personal touch to every slice of their homemade masterpiece.
Imagine the joy on your mom's face as she effortlessly serves her famous apple pie using a beautifully engraved pie server with her name on it. Or picture the smile on your grandma's face when she sees a thoughtful gift that celebrates her love for baking.
What makes these pie servers from Signature Laser Designs stand out? First and foremost, the quality is exceptional. Crafted with durable materials, these servers are built to last through countless baking adventures. The personalized engraving adds a touch of elegance and makes it a unique keepsake.
Not only are these pie servers practical, but they also make for a wonderful display piece in any kitchen. They're not just tools; they're a reminder of the care and thoughtfulness behind the gift.
And let's not forget the versatility of a good pie server. It's not limited to pies alone! From cakes to quiches, a reliable pie server is a must-have for any baker's collection of tools.
Whether it's for Mother's Day, a birthday, or just a spontaneous gesture to show appreciation, a personalized pie server is a heartfelt gift that will be cherished for years to come.
So, if you're looking for that perfect gift to honor the baker, the mom, or the grandma in your life, head over to Signature Laser Designs and explore their range of personalized pie servers. Your loved one's next baking creation will not only taste delicious but will also be served with love and a touch of personalized elegance!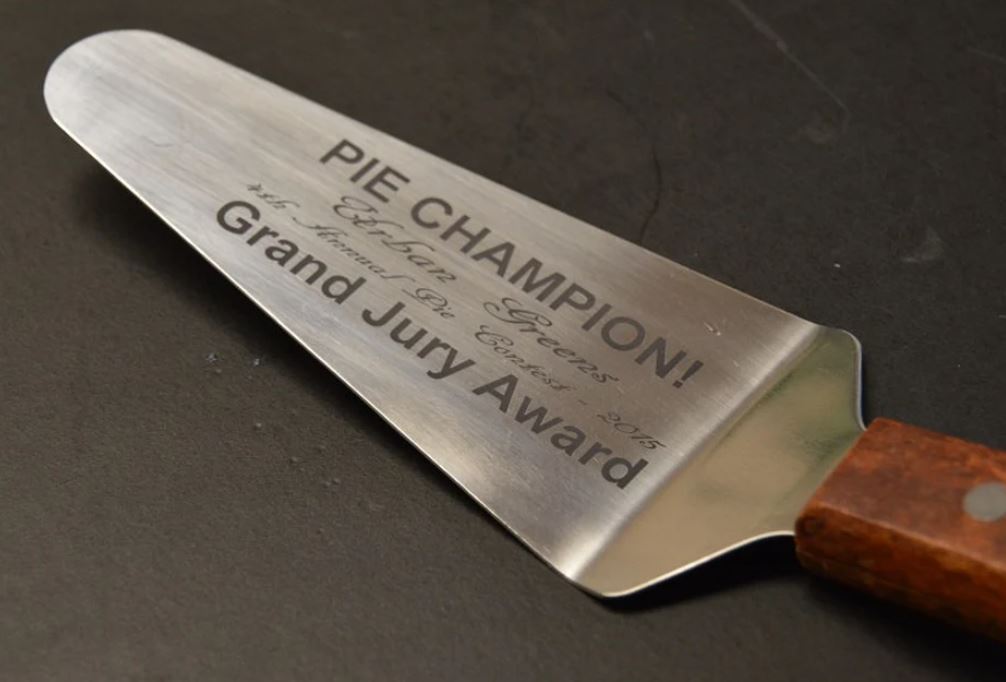 5 out of 5 stars
"I ordered 22 personalized engraved pie servers as fun trophies for our Pie-K 5K race. They were a huge hit. The pie servers were great quality and he was able to rush my order to get the 22 servers here in time!"